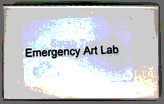 Previous and current projects:

2000: '64 samples' Arts Council of England commissioned work at 'Wired and Dangerous' Digital Arts Conference, Leicester UK

2001: 'club confessional' at The Junction, Cambridge UK and Pop Centrum 013, Holland

2002-3: 'Remergence', a group project using infra-red sensors to be exhibited UK and USA



background info

Emerging in 1999 from a residency at Loughborough University Computer Science Department's Creativity and Cognition Research Studios (C&CRS, now CCS at Sydney), The e-artlab creates situations where art emerges from data gathered from the environment and the interactions of participants. It also grasps opportunities for digital art in urgent, spontaneous or unusual public situations.

The artists wear theatrical lab coats and identification badges to provoke issues around authority and obedience (see Millgram's experiment and 1963 paper Behavioral Study of obedience), privacy, and data protection. Paradoxically, the aim is also to invite public access to the processes involved (we could have said 'make process transparent', but we didn't).

e-artlab seeks to make serious-yet-playful comments on the electronic gathering of private information, and to undertake work where the outcome is defined only as a series of possibilities, allowing the public situation and participation to mould the work.

64 samples took audio, portrait images and personal data from conference attendees and synthesised them into a 'performed' virtual object.

club confessional used video and audio from participants 'confessing' in a soundproof booth on three club nights in the UK and Holland, and mixed these 'confessions' back into diverse locations within the club environment. Some were genuine and revealing, but no individual data was taken and anonymity was preserved by splitting the audio and video.

The Emergency Art Lab incorporated explorations in computer science, especially human-computer interaction, from their work at C&CRS.






contacts:

Emergency Art Lab
www.e-artlab.com

Dave Everitt:
daveeveritt.org/art.html

Mike Quantrill
m.p.quantrill@lboro.ac.uk

collaborators:
as emergent conditions demand

collborators to date include:
64 samples
Matt Rogalsky
Pip Greasley
Lizzie Muller




With Carrie, Robin, Chris and other staff at the Junction