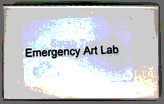 performance dates:

March 23 [fri]
Boogie wonderland
Junction, Cambridge, UK

April 7 [sat]
Pop centrum 013, Tilburg, Holland

April 28 [sat]
Dot cotton
Junction, Cambridge, UK






live digital performance art

Club Confessional highlighted the contrast between the public space of the club and the private experiences of the visiting clubbers. In the booth, individual clubbing behaviour was isolated, and the two primary components of visuals and audio split apart. Inside the booth clubbers mostly carried on as if they were on the dancefloor.

The resulting footage is a remarkable document of night-out behaviour, currently being edited to provide statistical details: how many women, how many men, how long they stayed, were they alone or in groups? How many bared their arses, bellies or tits; how many actually made some kind of real confession?

Commercial media usually just exploits collisions of private and public… Club Confessional provides a value-free space for clubbers to behave as usual, but in an unfamiliar context created by the e-artlab aganda.

There are some pictures with the leaflet and poster handed out on the first night - links to photos and a time-lapse film from 013 in Tilburg are on the entry page.







external links:

the Junction, Cambridge

Pop Centrum 013, Holland


internal links:

original rough sketch for the soundproof confessional booth

original proposal

about e-artlab